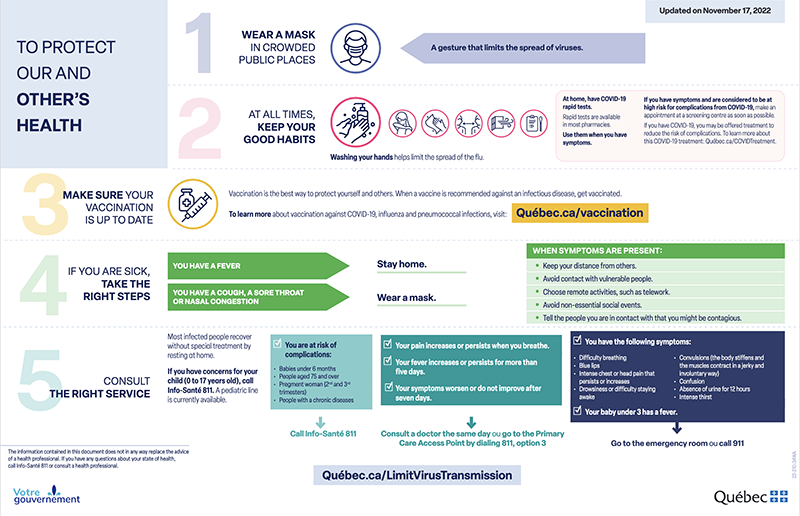 In an approach to living with COVID-19 and other respiratory viruses, it is recommended to respect the guidelines to limit the transmission of respiratory viruses.
Consult the following 2 pages for more information:
Public Settings

Measures in Effect

Workplaces

General Measures

Hybrid mode, if applicable.
Each employer can decide to request the use of masks for employees in the workplaces.
Workers experiencing symptoms or who have tested positive must follow MSSS recommendations to limit the transmission of an infectious respiratory illness.

Note to employers: It is not recommended to request medical certificates for those who are absent due to symptoms consistent with COVID-19 or other infectious respiratory illnesses, to avoid overloading health centres.

Health Establishments (CLSC/Nursing Station)

Masks are mandatory

Elders Homes

Measures differ depending on whether there is an outbreak in the facility. Additional measures may apply.

Informal caregivers and visitors must:

Comply with basic health instructions
Wear a medical procedural mask in accordance with current guidelines upon arrival to the facility
Respect physical distancing of 2m at all times
Not visit a loved one if feeling sick.

An informal caregiver or visitor may visit more than once during the same day.