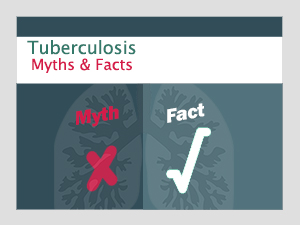 It is important to know the facts in order to debunk the myths regarding tuberculosis if communities are to overcome their fears about the disease:
FALSE: Tuberculosis is transmitted from one person to another by shaking hands, sharing utensils, hugging, touching, kissing and sharing a drink or touching a doorknob or other forms of contact with someone who has active TB.
TRUTH: TB cannot be spread through simple contact. It is spread through the air like aerosol. It is spread when a person with active TB coughs or sneezes. It can also be spread simply by laughing, shouting, talking, singing or just breathing. The tiny droplets which are contaminated with the TB germ can stay in the air for hours. If you spend several hours breathing the tiny invisible germs you may develop sleeping TB or even worse you may get active TB.
FALSE: Tuberculosis can only be cured by being sent to hospitals outside of Nunavik.
TRUTH: Tuberculosis can be cured right here in Nunavik. Those with active TB and who require specialized care may be sent to a hospital in Montreal. But these are truly unusual cases. Most cases will be required to be hospitalized at the Inuulitsivik Health Center in Puvirnituq or at the Tulattavik Heath Center in Kuujjuaq and kept in isolation for two weeks. The more someone is sick, the more that person is contagious then the longer he or she will be required to stay in the hospital. As soon as a TB patient is no longer contagious he or she will be released from hospital. However the person will have to continue taking the medication for several months in order to be cured.
FALSE: People with active tuberculosis need to be avoided at all cost.
TRUTH: Anyone can get TB or is susceptible to get TB. Those with active TB need all the support they can get from family members, friends and the entire community. It is important to know that when someone who has active TB leaves the hospital and continues to take the medication that person is no longer contagious and does not pose a risk to others. They need to be encouraged into taking their medication during the 6 to 9 months that is needed to cure the disease. In some cases the treatment can last up to 12 months. The worse thing that can happen to those with TB is to be stigmatized by people around them. They should never be blamed for having the disease. Instead they are to be congratulated for getting treated and doing everything they can to get cured in order to avoid spreading TB to others.
FALSE: Tuberculosis will never be cured in the North and there is nothing that can be done to stop it.
TRUTH: Doctors and nurses in Nunavik are working hard to eliminate TB and it may come sooner than expected. In fact we are entering a new stage in the fight against TB that has only just begun. Nunavik plans to use its share of the recently announced $27.5-million in federal funding to aggressively pursue its goal of eliminating TB in the region. With the help of the Quebec government, Nunavik has initiated an ambitious action plan aimed at stopping the spread of TB and defeating it once and for all.
The additional funding will help to mobilize communities and equip them with the medical technology and expertise needed to sustain a permanent effort aimed at eliminating new active TB cases perhaps as early as by the end of the next decade. At the same time increased efforts will be required to tackle the broader social causes of TB outbreaks in Nunavik such as inadequate housing, poor nutrition and smoking.