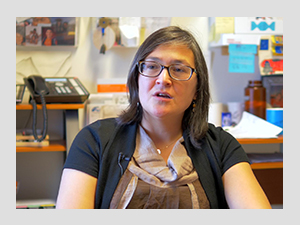 With two tuberculosis outbreaks in as many years, Kangiqsualujjuaq learned the hard way to deal with a disease that inflicted a great deal of pain on the community. However the information and knowledge acquired during these difficult times shaped the attitudes and practices that will serve as an inspiration to all communities in Nunavik in confronting the disease.
The first outbreak took place from November 2011 until the end of 2012 where 69 cases of TB were detected in the community of about 900 people. It was an extraordinary event that was compounded by a second outbreak of 21 cases in 2014. Sadly, just last year one of its residents died of tuberculosis, the first TB related death in Nunavik in several years.
In confronting TB, the community faced several problems not the least of which involved the social stigma associated with the disease.
"When we would leave, people did not want to shake our hands. They were not well informed. They thought they could get tuberculosis just like that. People were afraid of us," recalled school vice-principal Nancy Etok.
But the community refused to stand idle in the wake of the enormous challenges it faced.
"In Kangiqsualujjuaq we had many tuberculosis cases but we decided to fight it….The only way to solve anything is by working together" said the Mayor of Kangiqsualujjuaq, Hilda Snowball. "When the tuberculosis spread we worked together with the CLSC, municipal council and community organizations. That's how we fought it."
Fears and misconceptions about TB were the main causes of the stigmatization inflicted on the community. It had a major impact on the ability to detect and control the disease. It caused people to avoid being diagnosed and treated promptly while others didn't want to be seen going to the clinic to take their medication as prescribed.
In the schools, students were taught what symptoms to look for and learned how TB could be spread in their community. Community leaders took to the airwaves to explain the disease. The entire population learned the real facts about TB which helped to dismiss the falsehoods and myths surrounding tuberculosis. The information campaign had an immediate impact on the population.
People became less shameful and began helping those with TB to get treatment. A higher level of compliance to treatment was noticeable. Those reluctant to take TB seriously began to change their attitudes. Leading members of the community spoke out and the population listened. With the constant presence of TB nurses, interpreters and medical staff who motivated, encouraged and supported patients, the community overcame its fears, making it easier to detect and cure the disease.
"Knowledge is a treasure but practice is the key to it," Ms. Snowball said. Today Kangiqsualujjuaq residents hold the key to beating TB and they are now in a position to share their knowledge and help others fight back to end TB in Nunavik.