It Takes a Community to Nurture a Child!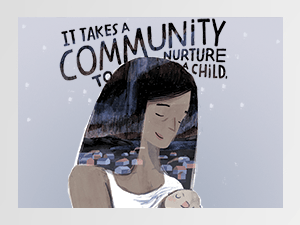 Breast milk is the optimal food for babies and toddlers and is their very first traditional food. Breastfeeding offers many benefits for the infant, the mother, the family and society. Some learning is required from both the mother and the baby to pursue breastfeeding, and the support of family, community and health professionals is important.
Parents of babies who are not breastfed also need support and information about the best way to safely feed their children.
At around six months, the baby is ready to be introduced to solid food. Offering parents trustworthy information about healthy food choices for young children is also important.
In order to support all Nunavimmiut and promote breastfeeding and healthy food choices for children, we invite you to organize activities and distribute documentation in your community:

For more information about funding opportunities or for support to organize your event, please contact:
Amélie Bouchard
Public Health Nutritionist
amelie.bouchard.reg17@ssss.gouv.qc.ca
(819) 964-2222, ext. 255

Documentation to Hand Out to Participants:

Documents Produced by the NRBHSS:
Discovering food with your baby

Documents Produced by Health Canada / Public Health Agency of Canada:
10 Great Reasons to Breastfeed
10 Valuable Tips for a Successful Breastfeeding

Resources for Dad:
resource for Inuit of Canada
Dear Dad (Produced by Baby-Friendly Newfoundland & Labrador)
24h Cribside Assistance
Online resource by dads for dads
Discuss fathering
Documentary "Parenting: An Inuit father's experience" (Also in DVD)